Gabi The Artist (Singer-Songwriter/Guitarist), Philly Bada Boom (Drummer/Songwriter), and Frandy Codes (Bassist/Sound Engineer/Songwriter) have joined forces to write, compose and produce music that their fans can't get enough of. Their live performances are high energy, engaging and very entertaining.
Gabi The Artist is based in Montclair, New Jersey and the band has performed in venues and festivals across the New York Metropolitan area and Southern California. Their Alternative Pop Rock sound is known to captivate and energize any crowd. They have been featured in media outlets such as the Montclair Local, Montclair Patch, NorthJersey.com, WVMR, and Urban Radio Show.

With over 18,000 followers on social media, the group continues to gain support and praise from people across the country. You can stream music by Gabi The Artist on Spotify, Google Play, Apple Music, Tidal, Deezer, and many more digital platforms. If you're interested in booking Gabi The Artist, email bookgtanow@gmail.com.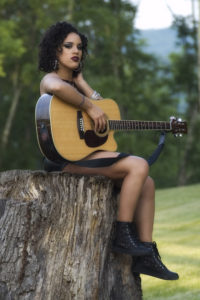 "Gabi The Artist" is a Montclair, New "Jersey Girl" whose life's mission, from a very young age, has been to be an artist, a writer and a musician. Through her talent and self determination Gabi has become a self-taught and passionate guitarist, singer, songwriter and model.
Gabi's mixed Latino and African American heritage has exposed her to all types of music and art throughout her life. Some of her musical influences are Prince, Selena, and No Doubt but her most influential is her rock star cousin, the late Ray Gillen. Ray was the lead singer for Black Sabbath before co-creating Badlands with Jake E. Lee. Their songs have hit the top of the MTV charts and are still covered by various artists today.
Gabi The Artist has been featured in showcases at the Blue Room Lounge in Secaucus, NJ, The Colt in Paterson, NJ, Harlem Nights in Harlem, NY among other places. Her performances often feature rapper (and soon to be speech therapist) Freck Face Lauri, Gabi's little sister.
Gabi is always working on growing as a musician and to that end she was fortunate to connect with the talents of drummer and songwriter Philly Bada Boom as well as bassist, sound engineer and songwriter Frandy Codes. This trio have taken Gabi The Artist to a whole new and powerful level. When they perform their positive energy and exciting performance really moves the crowd; it's easy to feel their passion and love for music, their fans and each other. They have many exciting performances throughout the NY Metropolitan area and they put a lot of time in the studio producing new music. They are grateful for all the supporters who inspire them to continue to grow as a band of talented musicians and high energy, engaging performers.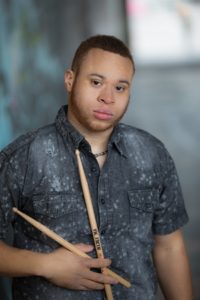 Phillip Fenney also known as "Philly Bada Boom" is a multi-talented musician, drummer and songwriter who currently resides in West Orange, NJ. His love for music is in his genes as his father was a drummer, his mother loved to sing and he has many other talented musicians in his family dating back to the roaring twenties.
He was inspired at a young age by the musicians at his church and when he was 9 years old he picked up the drum sticks and hasn't put them down since. His influences consist of his favorite groups such as George Clinton Parliament Funkadelic, Dennis Chambers, Stevie Wonder, Earth, Wind & Fire, James Brown, and John Blackwell.
In 2011 Philly and his friend Dan Naranjo formed the band "Straight Nasty". They performed for over 4 Years all over The Tri-State area, including playing in Harvest Festival in Bloomfield New Jersey from 2011 to 2014. Straight Nasty also had a 10 month standing gig to perform cover songs as well as original material once a week at "Pianos Bar and Grill" in Bloomfield New Jersey.
These experience have helped him grow as a strong drummer and performer and learn a lot about live sound. Towards the end of 2016 he reached out to Gabi The Artist and they began to collaborate and perform live shows. In 2017 Philly Bada Boom introduced Frandy Codes to the group to add a perfect mix to a strong musical team. Together they continue to work hard to bring great music to their fans by performing throughout the Tri-state area. They have attended various music symposiums to increase their knowledge and are in the process of releasing their newest single "Ghost".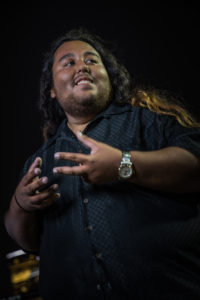 Fernando Castillo (also known as Frandy Codes) is a Mexican/Salvadorean-American multi-talented musician/ producer/ sound engineer/ song writer who graduated from the Institute of Audio Research with High Honors in 2012. After graduating he quickly received a internship at Water Music Recording Studio in Hoboken, NJ and one internship on a feature film "Her Composition". His hard work & good spirited attitude quickly catapulted him into working on over 100+ films including Cannes Film Festival & Sundance nominations as well as working for companies such as Def Jam Recordings, Bleacher Report, Saks Fifth, & Arte.tv
Growing up his parents bought him a guitar at age 9 which he actively played everyday until he graduated high school. It was through school he met he also played the Clarinet and was in Advanced Placement classes for Music Theory. It was through this studying as well as himself tinkering on FL Studio he'd begin to make electronic music for his classmates. He even played guitar in a rock band for 4 years in high school with current band mate Philly Badaboom. His musical influences range from Death Metal, Hardstyle, Spanish Ballads, popular music and many more. Since leaving High School, he's managed to play alongside Grammy Nominated Ricky DeRose and other talented musicians.
In 2017, Fernando "Frandy" Castillo shifted all his attention to working with Gabi the Artist & Philly Badaboom as bassists, sound engineer, & songwriting full time. As a musician for over 12 years on Clarinet & Guitar and trained in classical music theory as well as Live & studio sound engineering experience, he hopes to contribute his strengths to the group to make the best music possible. He hopes to be touring internationally by the end of 2018.